Restorative Dental Services in Huntington
Kalmar Family Dentistry provides restorative dental treatments ranging from composite fillings to dental implants and everything in between. To book an appointment call 631-673-0670, or send us a message.
---
What Is Restorative Dentistry?
---
Restorative dentistry is the term for dental services that restore your teeth and mouth to good health. Some treatments repair problems in teeth, while other restorative treatments replace missing teeth with natural-looking dental implants, bridges, or dentures. At Kalmar Family Dentistry, Dr. Kelly Kalmar provides restorative dental treatments for patients of all ages.
---
Benefits of Restorative Dentistry
---
The goal of all restorative dental treatments is to return your teeth and mouth to a state of good health. However restorative dentistry offers other specific benefits such as:
Filling gaps

 

with natural restorations
Preventing gum disease and gum recession
Improving

 

your confidence
Safeguarding your overall health and well being
Preventing small problems from worsening
Restoring your bite force and chewing ability
---
Why Choose Kalmar Family Dentistry?
---
Dr. Kelly Kalmar has 25 years of expertise in restorative dental treatments for all ages. At our family-focused dental practice, we make all efforts to provide you with a pleasant experience during your dental care. We recognize that restorative dental treatments can be frightening or stressful for patients, and we aim to put you at ease with our friendly staff. If you suffer from a severe fear of dental care, ask about sedation options. Nitrous oxide is fast-acting and wears off virtually immediately while relaxing you enough to receive crucial restorative care.
Procedures Offered
---
Dr. Kelly Kalmar provides complete restorative dental treatments at Kalmar Family Dentistry in Huntington, NY. Services offered include:
---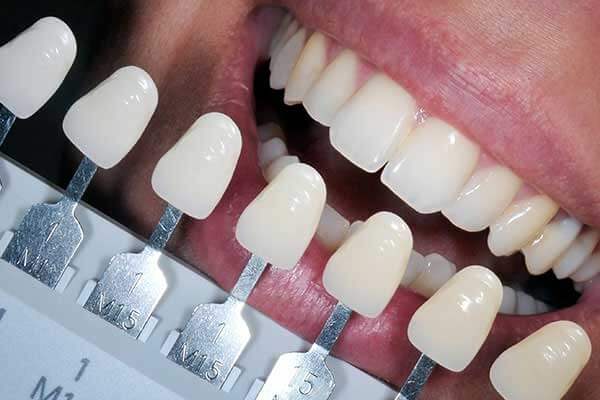 ---
Composite fillings to prevent worsening cavities (tooth decay) are matched to your natural tooth shade, making them virtually invisible. Made of tooth-colored resin, composite fillings are durable, safe, and effective.
---
---
Inlays and onlays are used to restore teeth that have cavities that are too large to be treated with a filling, but enough healthy structure remaining to avoid a full crown. As such, inlays and onlays are effectively "partial" crows. Inlays and onlays are typically made of porcelain, or metal-fused-to-porcelain making them incredibly durable.
---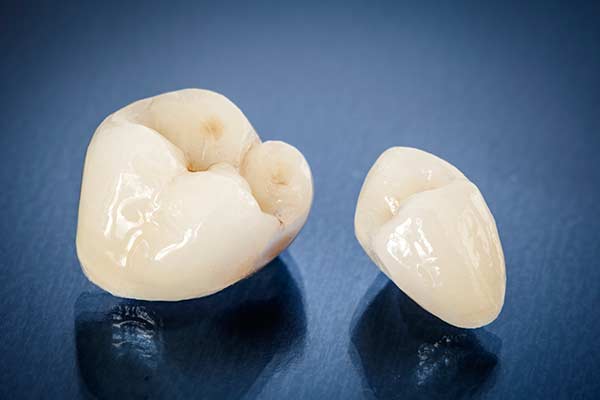 ---
Dental crowns are used to restore teeth that have become compromised due to significant decay or wear. They are also used to protect cracked or broken teeth. A dental crown completely covers a tooth, to protect you from tooth loss or worsening decay.
---
---
Dental bridges help bridge the gap left by a missing tooth or multiple teeth. There are a variety of dental bridges available from Dr. Kelly Kalmar. Dental bridges attach to the teeth on either side of a gap or attach to dental implants on either side of a gap.
---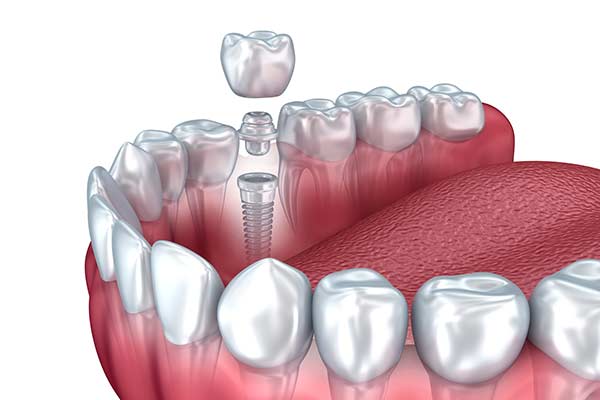 ---
Dental implants are deemed the gold standard in restorative treatments for missing teeth. They are the only type of dental restoration that replaces both the tooth root and the visible part of the tooth (crown). This prevents the loss of jaw bone. Dental implants are also the most durable type of dental restoration, lasting at least 20 years and potentially a lifetime, with excellent oral hygiene habits and regular dental care.
---
Dentures
---
Dentures replace missing teeth. There are many options available from Kalmar Family Dentistry including fixed or removable, full or partial, or traditional or implant-supported dentures.
---
Root Canal Treatment
---
A root canal treatment is a restorative treatment that saves a tooth from being lost due to infection or significant decay. Thanks to innovations in dental technology and techniques, root canals today are no more painful than getting a dental filling.
---
Extractions
---
Tooth extractions are always a last resort. However, in some cases, a tooth simply cannot be saved. Kalmar Family Dentistry provides painless tooth extractions for children and adults when necessary.
---
Frequently Asked Questions About Restorative Dentistry
---
Are fillings covered by insurance?
---
If you have dental insurance, most policies will offer some coverage for dental fillings. Check with your insurance carrier for your specific coverage limits.
Is a dental bridge or dental implant better for replacing missing teeth?
---
Dental implants provide more than just a replacement tooth. They replace the tooth root, which is responsible for securing your jaw to each tooth. As such, dental implants are considered the best treatment for replacing missing teeth. However, dental bridges offer many benefits, such as filling gaps in your smile, improving confidence, and allowing you to chew normally again.
Should I have a root canal or just pull my tooth?
---
Any tooth that can be saved should be saved. Therefore it is always more beneficial to have a root canal than an extraction. A root canal preserves the natural tooth, and the tooth root, which is instrumental in maintaining your jawbone, and your facial appearance.
Do children need to have cavities in baby teeth filled?
---
It depends. If your child develops a small cavity that isn't causing symptoms, and they are near the age that the primary tooth will fall out, Dr. Kalmar may not recommend filling the tooth. However, young children who have cavities and won't be getting adult teeth soon should have cavities filled.
What are the benefits of implant-supported dentures?
---
Implant-supported dentures offer benefits such as a more secure fit, preservation of the jawbone, and a smaller, more comfortable base. With implant-supported dentures, patients also do not need to worry about embarrassing slippage or messy adhesives.
---
Book Your Appointment at Kalmar Family Dentistry
---
Take the first step in restoring your mouth to good health by booking an appointment at Kalmar Family Dentistry in Huntington, NY. Call 631-673-0670, or send us a message.
---